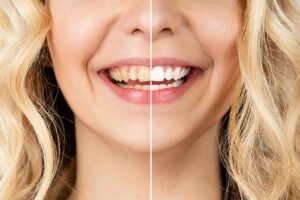 Many patients have tried different methods to whiten their teeth with varying degrees of success. Some patents don't even try to bleach their teeth because they believe that their teeth are so stained that it will not work for them. I am here to tell you that after many years of offering bleach for my patients, I have never seen a case that did not bleach when the proper protocols were followed.
What are the different types of ways to bleach teeth?
Over the counter
The over the counter bleach that I think everyone has seen in grocery stores has hydrogen peroxide as the active ingredient. This form of bleach releases all of its potency immediately and this is why most recommend only using this for about an hour. It is also why many people have mixed results since some patients have stains that are embedded deep in their teeth and it takes time for the bleach to diffuse deep enough to reach those stains. Many also experience sensitive teeth with this method too.
Professional strength bleach that can only be purchased from a dentist typically uses carbamide peroxide. This type of bleach slowly releases its potency over many hours and for most dental patients that decreases instances of sensitivity. This allows our patients to wear the bleaching trays at night while they sleep.
At home professional whitening
We make custom fit clear trays which hold the bleach up against the teeth that we want to bleach. Patients can reuse the trays as many times as they want. This method can work great for non severely stained cases and when patient is diligent in wearing the trays while they sleep.
In office Deep Bleach
This is the fastest way on the market to get teeth as white as they can be fast, especially those cases that are very dark. In this method, we make an extremely accurate custom tray which we use at the first bleach appointment and the patient may use once a month if they want to maintain the bright white teeth that they achieve. It is also used nightly up until the final deep bleach visit. Typically we bleach the teeth in my Victoria dental office in 2 separate visits which are separated by 2 weeks. We do the bleach in my office because it is so strong that it is not safe for patients to use unsupervised. This bleach allows us to get out very stubborn stains that have embedded in the tooth over many years. Our Kor Deep Bleach system also uses very potent teeth desensitizers to address the sensitivity that some patients can have with teeth whitening.